Games
Return to search

3DS The Legend of Zelda 25th Anniversary Edition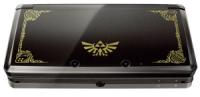 | | |
| --- | --- |
| Model: | 3DS The Legend of Zelda 25th Anniversary Edition |
| Manufacturer: | Nintendo |
| Type: | Video Game Consoles |
| Year: | 2011 |
Sign In to View this
Valuation Report
&nbspDescription
Cosmo Black Model, With Zelda Emblem.
&nbspResources
Product Summary
Thu Jan 26 09:17:40 MST 2012 -
The Nintendo 3DS The Legend of Zelda 25th Anniversary Edition by Nintendo is a handheld video game console. This is in the comso black finish with the zelda emblem on the console itself. This game was sold with The Legend of Zelda: Ocarina of Time 3D game.
Product Listing Pages
Press Releases


3DS XL
Nintendo
Video Game Console
2014
Description: 2014 Redesigned Version.
DS Lite Super Mario Bros. Limited Edition
Nintendo
Video Game Console
2008
Description:
Gameboy Advance SP AGS-101
Nintendo
Video Game Console
2005
Description: Backlit model, colors: pearl blue, pearl pink, graphite
Gameboy Color
Nintendo
Video Game Console
1998
Description:
Gameboy Advance SP AGS-001
Nintendo
Video Game Console
2004
Description: Frontlit model, colors: onyx, flame, platinum, cobalt blue
3DS XL Samus Edition
Nintendo
Video Game Console
2017
Description:
3DS XL Retro NES Edition
Nintendo
Video Game Console
2014
Description:
DS Lite
Nintendo
Video Game Console
2006
Description:
Wii
Nintendo
Video Game Console
2010
Description: Black Model.
Gameboy Advance Classic NES AGS-001 Limited Edition
Nintendo
Video Game Console
2002
Description:
3DS
Nintendo
Video Game Console
2011
Description: Cosmo Black Model.
Nintendo Entertainment System (NES) NES-001
Nintendo
Video Game Console
1985
Description: Console Only.
DS
Nintendo
Video Game Console
2004
Description:
Super NES Classic Edition
Nintendo
Video Game Console
2017
Description:
Gameboy Micro 20th Anniversary Edition
Nintendo
Video Game Console
2005 - 2005
Description: Red and Gold Model.
Switch
Nintendo
Video Game Console
2017
Description: 32 GB Model.
3DS XL
Nintendo
Video Game Console
2012 - 2014
Description:
Gameboy Advance Classic NES AGS-001 Limited Edition
Nintendo
Video Game Console
2002
Description: Original Console, Box, Instructions.
Switch (Pikachu & Eevee Edition)
Nintendo
Video Game Console
2018
Description:
3DS The Legend of Zelda 25th Anniversary Edition
Nintendo
Video Game Console
2011
Description: Cosmo Black Model, With Zelda Emblem.
3DS
Nintendo
Video Game Console
2011
Description: Aqua Blue Model.
3DS XL Super Mario Bros 2 Limited Edition
Nintendo
Video Game Console
2014
Description:
DSi XL
Nintendo
Video Game Console
2010
Description:
NES Classic Edition
Nintendo
Video Game Console
2016
Description:
Switch (Super Smash Bros. Ultimate Edition)
Nintendo
Video Game Console
2018
Description:
3DS
Nintendo
Video Game Console
2012
Description: Pink Pearl Model.
Switch Lite
Nintendo
Video Game Console
2019
Description:
Wii U
Nintendo
Video Game Console
2012
Description: 8 GB
Wii
Nintendo
Video Game Console
2010
Description: Red Model.
3DS XL Pokemon Limited Edition
Nintendo
Video Game Console
2013 - 2013
Description:
Gameboy Advance AGB-001 Jasco Special Edition
Nintendo
Video Game Console
2001
Description:
Super Nintendo Entertainment System (SNES) SNS-101
Nintendo
Video Game Console
1997 - 1999
Description: Redesigned Model.
Gameboy DMG-01
Nintendo
Video Game Console
1989
Description: Handheld Console Only.
Nintendo Entertainment System (NES) NES-001
Nintendo
Video Game Console
1985
Description: Console, Controllers, Manual, Box.
Wii
Nintendo
Video Game Console
2006
Description: White Model.
Gameboy DMG-01
Nintendo
Video Game Console
1989
Description: Original Handheld Console, Box, Manual.
Wii
Nintendo
Video Game Console
2011
Description: Blue Model.
DSi
Nintendo
Video Game Console
2009
Description:
Gameboy Advance SP AGS-101 Spongebob Squarepants
Nintendo
Video Game Console
2006
Description:
Gameboy Micro
Nintendo
Video Game Console
2005 - 2008
Description:
Super Nintendo Entertainment System (SNES) SNS-001
Nintendo
Video Game Console
1991 - 1994
Description: Original SNES
DSi XL Super Mario Bros. 25th Anniversary Special Edition
Nintendo
Video Game Console
2010
Description:
Gameboy Color Pokemon Gold Special Edition
Nintendo
Video Game Console
1999
Description:
Gameboy DMG-01 Play it Loud Special Edition
Nintendo
Video Game Console
1995
Description: Available in Black, Blue, Green, Red, Transparentm White and Yellow Finish
Nintendo 64
Nintendo
Video Game Console
1996
Description: Dark Grey Model.
Gameboy Pocket
Nintendo
Video Game Console
1996
Description:
GameCube
Nintendo
Video Game Console
2003
Description:
Wii Mini
Nintendo
Video Game Console
2013
Description:
Gameboy Advance AGB-001
Nintendo
Video Game Console
2001
Description:
3DS XL The Legend of Zelda: A Link Between Worlds
Nintendo
Video Game Console
2013 - 2013
Description: